---



Orchill

is a very old estate water in a very quiet
picturesque setting. The Loch is regarded by many as one of the best small waters in the Central Belt of Scotland , and regulars to the Loch come regularly from far and near to enjoy the good fishing and friendly atmosphere amongst that exists between the Anglers and the Owners of the Loch,The Loch is 4.1/2 acres and has a good natural head of brown and tench keep the water clean.
Stocking
The water is stocked twice weekly with hardfighting rainbows of about 2lb to 2.1/2lb average. There are always fish rising and it is a very good water for the dry fly with an abundance of fly life. The Fishery record stands at 15lbs and it is not uncommon to catch fish in the 3lb to 8lb range, guaranteed to give you a good fight and a sore arm.The Fishery is also a Member of the A.S.S.F
Please Check out the Fishing reports page on this site , it is updated every week and will give you an insight into what and who is catching the fish.
Christmas Eve December 24th 2018
So much for the weather forecast, we had -7 degrees
below this morning so please
phone before coming after
tomorrow 07836 312647
Andrew's mobile just in case
this frost continues, it is not
supposed to but we will
wait and see.
All the best Elizabeth
---
Orchill Loch is suitable for all ages : see picture below
During very cold spells in winter it is advisable to check with Elizabeth Jackson on 01764 682287 if the Loch is Ice Free.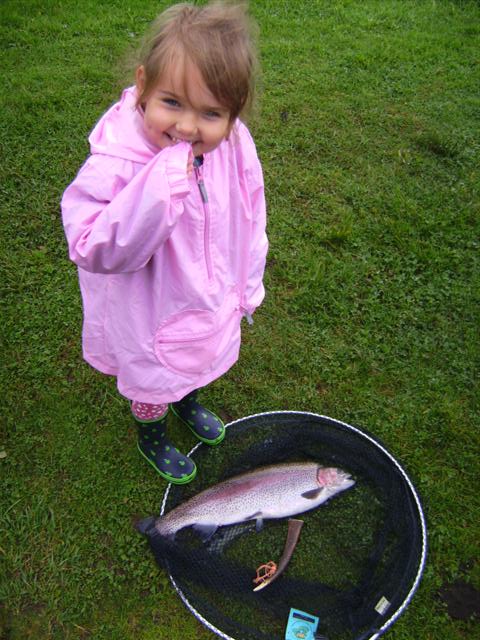 Young Samantha was showing her Grampa how to catch fish.
If anyone wants to send photos of fish.. email : richardmcglashan(a) aol.com
---
Group and Club Bookings can be accepted, but book early to avoid disappointment. see ticket page for contact details.
---
Facilities.

The water has easy acess from the car park and has wooden stands suitable for wheel chairs. There are two boats available for hire, £5.00 extra for two anglers.


There is a chalet for anglers use with free tea and coffee and a cooker and microwave.